Without the right assistance, the international adoption process can be a complex and daunting process. At Open Arms we have had experience with over 1,500 adoptions from China. It means that we know the process well and can help ensure that your experience is as pain-free as possible.
Deciding to adopt is not an easy to decision. This is why we recommend that the first thing that you do is some research and perhaps join a support group. Talk to as many adoptive families as possible. As part of its introductory services, Open Arms will arrange for prospective families to talk about adopting from China with families who completed their adoptions.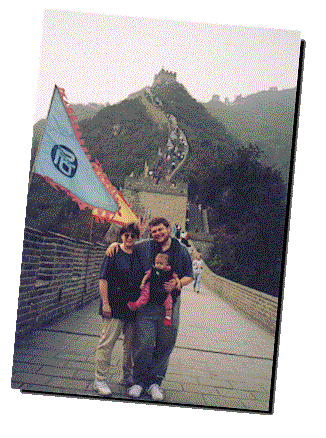 Then come to one of our free monthly information sessions or arrange a private consultation. Contact us at (416) 966-0294 or info@open-arms.com to find out the time and location of the next information session.
To complete an adoption, prospective families must have the approval of the Ontario Ministry of Community, Family and Children's Services. This approval will be based upon a home study that has been conducted by a qualified social worker.
Then we will assist you to complete your dossier so that it meets Chinese and Canadian government requirements. In the meanwhile, you'll get a chance to compare notes with other waiting families as well gain valuable information from adoptive parents.
Once your dossier is completed, it is hand-delivered to the China Centre for Adoption in Beijing. A child is proposed and the approval to complete the adoption arrives from Beijing. Then it's time to get ready to travel. All prospective parents completing adoptions travel as a group to China. But before you go, you'll attend an Open Arms' travel seminar where you'll learn about what to bring, what to expect, and what to do in China.
Once you arrive in China, you'll be met and accompanied by a skilled interpreter/facilitator, who travels and works with you throughout your two week trip. The first stop after a night's layover in Beijing is the provincial capital of province where the adoption is being completed. Typically, you'll meet your new baby within 24 hours of arriving. The child joins your family immediately so you better sharpen up your diaper changing skills! During the week while the paperwork is being completed, you'll get a chance to bond with your baby, sightsee, and shop. The hotels at which our adoptive parents stay are typically top-notch with a selection of shops, restaurants, and other amenities.
At the end of the week, you fly back to Beijing to complete the Canadian immigration process. Beijing is a fascinating modern city of 12 million people. You get a chance to see sights like the Great Wall, Beihei Park, and the Forbidden City. Your guide will arrange a number of sightseeing and shopping tours while you wait for the paperwork to make its way through the Canadian system.
After you arrive home, Open Arms' follow-up programme kicks into place. You are invited to Chinese celebrations, encouraged to take part in helping other prospective parents; we'll check on your progress and ensures that you complete Canadian legal requirements.
When you work with Open Arms, you can be sure that we do everything that we can to make the adoption process smooth and right.